Two mini Pilgrimages – Oxford and Reims
(Contributed by Dr. Paul Severn)
I have recently made two mini-pilgrimages. The first was to Oxford. It is the city in which I was born and where I went to school, it is home to the University where I briefly studied and is the place which for most of my life I called home. These days I visit regularly to see friends and maintain contacts. So why go there on pilgrimage? What was I seeking?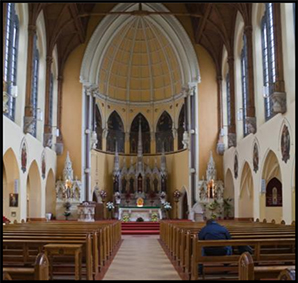 I was lucky to arrive, with seconds to spare in time for the 10 am Mass at the Oxford Oratory (picture – above) on the Solemnity of SS Peter and Paul (29 June). The church was packed but I squeezed in and I was treated to Sung Mass with a splendid homily about the Church (One, Holy, Catholic and Apostolic) and a solemn blessing. I left the church with a spring in my step and walked south down St. Giles (following the route that Sue Mawson recently took on the Corpus Christi procession, reported in an earlier edition of this newsletter) but then I turned east and headed along Broad Street to Radcliffe Square dominated by the splendid Radcliffe Camera, built in the first half of the eighteenth century to a design by James Gibbs. It is now part of the Bodleian library. But this was not the goal of my quest. I was headed for the adjacent Brasenose College. I arrived at the Porter's Lodge to read 'College closed to visitors'. I fully respect that Oxford Colleges are principally places of study not tourist attractions but on this occasion I was not to be deterred! I went into the Lodge and flashed my Oxford University Alumni Card – which I had guessed I might need – announced my intention and asked to visit the chapel. The porter could not have been nicer and waived me in.
Also as I had suspected there was no mention that I could find, of Blessed Robert Anderton who was a student at the college from 1578-1580. However, I was able to linger in the Old Quadrangle, the original part of the college built between 1509 and 1522 and this is where Blessed Robert would have lived (College records attest to this). There was no blue plaque, nor sacred shrine, but having been researching Anderton it was special to me. Bathed in brilliant sunshine, I took a photograph.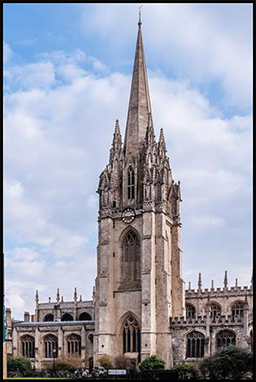 I also popped into the adjacent University Church of St Mary (picture – above), made famous by Newman having been there in his Anglican days. It is questionable whether Blessed Robert ever worshipped in this church, as the Reformation was in full swing, but more than likely he had to attend various formal University functions there. There was no specific mention of Blessed Robert but there was a new commemorative memorial which I had not seen before, commemorating Catholics and Protestants who had given their lives for their faith in Oxford. I rejoiced that we now live in more tolerant times. Blessed William Marsden is thought to have been a student at St Mary's Hall, originally housed in the Rectory of St Mary's Church and eventually absorbed by Oriel College, but I could find no extant trace of this, although I knew I was on the very ground that he would have trod. My second mini-pilgrimage, was to Reims in France where Anderton and Marsden studied. Reims is a funny place since it was all but flattened by bombs and fires that were caused by them, in the First World War. It has been sympathetically rebuilt and many of the older styles have been reproduced, so it does not seem like an early twentieth century city, and it is remarkably compact.
Anderton and Marsden studied at the English College, Douai, founded by William Cardinal Allen in 1568, which was located in Reims from 1578 until 1593. Time prevented me from finding any trace of the seminary, but I strongly suspect that there is very little to find.
The real goal of my quest was the magnificent cathedral where they were ordained, and indeed where as many as twenty-five French Kings were crowned. Supposed to be at the spot where St Remi baptised King Clovis, the first King of France (in 496). The very first church was built in the fifth century and enlarged in the ninth and tenth centuries but burnt down in 1210. In 1211 a foundation stone for the present church was laid and building began, and it is in this magnificent Gothic church, 115m long, with gravity-defying flying buttresses and breath-taking stained glass that Anderton and Marsden were ordained in 1585. The church was very badly damaged during the First World War, but was rebuilt in the original style. Other notable features are the intricately carved west facade, stained glass by Marc Chagall (1974) and the smiling or giggling carved angels which are said to communicate the smiles and the giggles of God. I was moved to imagine the Isle of Wight martyrs ordained here and preparing for their return to 'missionary work' in England. I would not hesitate to recommend a visit if you are ever in that part of France – even if it means a detour!
Read the full account of my researches into Blessed Robert Anderton and Blessed William Marsden in a new IOW Catholic History Society booklet, due out in the autumn.