Pilgrimage to Manchester
Contributed by Peter Clarke
In November 2019 I returned to Manchester for a golden jubilee university reunion. I had not been there for almost fifty years. I was amazed and shocked at the change in the university, the city and the whole environment. However, the two churches (St. Mary's – "Hidden Gem" and the Holy Name) with which I was most familiar, had somehow escaped the liturgical vandalism prevalent since the 1970s.
Manchester may seem an unusual place for a pilgrimage, but it has been a place of veneration of the Mother of God for many years. How many of us aware of the Marian title "Our Lady of Manchester"? This originated as long ago as 1422, when King Henry V granted permission for the collegiation of Manchester's parish church, dedicated to St. Mary the Virgin of Manchester. Papal confirmation was given by Martin V in 1426, and the document of confirmation may still be seen in the Vatican archives.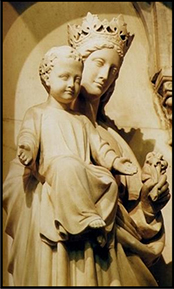 The pre-Reformation title of "Our Lady of Manchester" (see image – above) was restored in St Mary's in Mulberry Street in the mid 1800s, with the establishment of the Shrine of Our Lady of Manchester.
The shrine is in the city centre church (popularly known as the "Hidden Gem"). It is dedicated to Our Lady's Assumption into Heaven. The official opening of the church was on 30th November 1794, making it one of the oldest Catholic parish churches in England. (Our own St. Thomas's in Newport is 18 months older).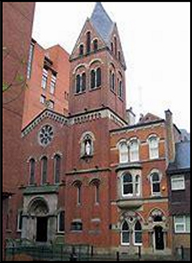 An Anglican historian, Rev Arthur J. Dobb, commented in his "History of the Diocese of Manchester" published in 1978:
"The Roman Catholic Church sought to tackle Manchester's deepest troubled area which lay between Deansgate and Albert Square. A church was built in 1794 in Mulberry Street on a site crowded in by intensive poor-quality housing on land which had so recently been open meadow and grazing pasture."
The church initially served the poor of Manchester, mainly Irish immigrants, who lived in damp conditions and appalling squalor. Infant mortality was high. Nevertheless, although very poor, they were strong in the faith and were determined that their children would be loyal, devoted Catholics. It was the pennies of the poor that assisted in the building and embellishment of this church.
With the passage of time the environment of the area has changed radically. The slums have long gone and now the church is surrounded by high rise offices, apartments and edifices of sophisticated materialism, which is probably more spiritually barren than the slums and moral vileness of the 19th century.
Every day, at lunchtime, there is Exposition and the rosary is recited and Confessions are heard before Mass. The church continues to be a spiritual oasis, for Catholic and non-Catholic alike, in the heart of a busy and thriving modern city, as witnessed by the large number of people who came in to say a prayer and to light a votive candle.
Thankfully, Vatican II liturgical reforms failed to destroy the old high altar and reredos, carved in stone and embellish with marble. A modest forward altar has not unduly affected the beauty of the sanctuary.
For further information on the church click on this link:- https://hiddengem.me.uk/
After St. Mary's in Mulberry Street, the next most familiar Manchester Catholic church is the Holy Name of Jesus in Oxford Road; next door to the university. Thankfully, this church also has not been spoiled in the wake of Vatican II. The ornate old high altar and sanctuary layout are untouched, although there is a modest (but very unattractive) forward altar, which can be easily moved. The church has a fine pulpit adorned with depictions of Sts. Edmund Campion, John Fisher and Thomas More (picture – below) and it is still used today.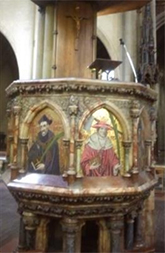 This church was built in 1871. Guess who the architect was ………… none other than Joseph Aloysius Hansom, who also designed our beloved St. Mary's in Ryde High Street (1846). St. Mary's was one of his first churches. He went on to greater things; designing not only Manchester's Holy Name church but also cathedrals at Plymouth, Arundel and Killarney, as well as Oxford Oratory and Birmingham Town Hall. Holy Name is not only very beautiful and devotional, but like St. Mary's in Mulberry Street, it is very busy. I was there for 30 minutes and there was a constant flow of visitors ………. not tourists, but local people passing by and coming in to pray, including quite a few young people from the university.
I counted five Confessionals!
At one time they would have all been used, with a queue of sinners awaiting forgiveness. The church website records that 16518 Confessions were heard in 1875! Whatever happened to Confessions in the Church? They are rarely mentioned from the pulpit today. Sadly, three of the church's Confessionals are unused (now store cupboards), but once again it is good to see daily Exposition and Confessions available before Mass.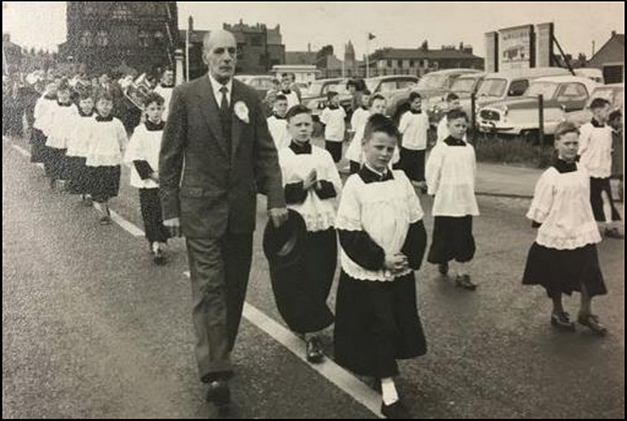 Processions in honour of Our Lady and the traditional Corpus Christi Procession have been familiar features of Manchester Catholicism since early Victorian times. There was also a Whit walk with Catholic groups / societies walking around the streets at Pentecost, giving witness to their faith. (See picture above). This Whit Walk with a parade of young altar servers from the Holy Name Church, Manchester took place in the 1950s.
For further information on the Holy Name Church, Manchester, click on this link:- www.holyname.info/
Our Lady of Manchester – Pray for us