Pilgrimage to Canterbury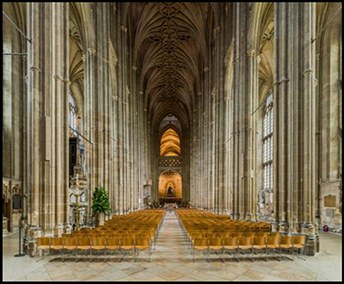 Returning from a pilgrimage to Ramsgate, pilgrims from the Isle of Wight stopped en route at Canterbury cathedral. Founded in 597, as the seat of the first archbishop, St. Augustine, the cathedral was completely rebuilt between 1070 and 1077. There has always been a steady flow of pilgrims to Canterbury. This increased after the martyrdom of St. Thomas Becket in 1170.
Before the Reformation the cathedral was part of a Benedictine monastic community known as Christ Church, Canterbury, as well as being the seat of the archbishop.
Pope John-Paul II came to Canterbury cathedral in May, 1982. Pilgrims saw the spot where both the Pope and Archbishop Runcie knelt and prayed at the spot where Becket was believed to be martyred.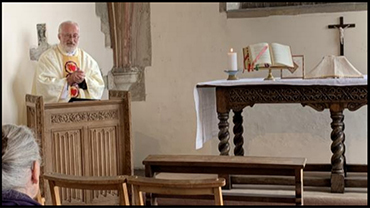 After a guided tour, Fr. Jonathan Redvers Harris offered Mass for the Feast of the Holy Name of Mary in All Saints Chapel (picture – above and below). Father reminded the pilgrims of the unique history of this mother church of Christianity in England, and, also of the significance of this Marian feast which was instituted by Pope Innocent XI as a yearly act of thanksgiving for the victory of Christian forces against the Turks at Vienna in 1683.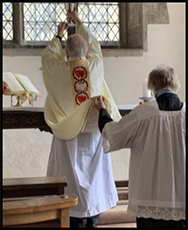 In today's ecumenical times, there was no problem arranging for a Mass to be offered in the cathedral. In fact, the cathedral authorities were most helpful and welcome.
An interesting aspect of our guided tour was seeing the replica of the weapons used to murder St. Thomas in 1170. A smaller replica of these weapons can also be seen in the sanctuary of St. Thomas's Church in Cowes (beneath the statue of St. Thomas). They were made in papier maché by the late Mrs Mary Lyons for a flower festival held in the church about twenty years ago. (picture – above).
Our pilgrimage concluded with a visit and prayers at the Catholic Church of St. Thomas of Canterbury after lunch. This is close by the cathedral. The church which contained a relic of St. Thomas Becket in a side chapel. The church was built in 1875 in the gothic revival style on the site of a medieval church (demolished in 1870). It has to be said that the "Vatican II inspired" re-ordering of the sanctuary appears in poor taste aesthetically. Nevertheless, this was the final religious venue on the pilgrimage and prayers were offered in thanksgiving for a spiritually uplifting pilgrimage and for a safe homeward journey back to the Island.