A 'Two Holy Doors' Day of Pilgrimage
Written by Monica Knight of Ryde
"To reach the Holy Door, in Rome or in any other place in the world, everyone will have to make a pilgrimage. This will be a sign that mercy is also a goal to reach and requires dedication and sacrifice. May the pilgrimage be an impetus to conversion: by crossing the threshold of the Holy Door, we will find strength to embrace God's mercy and dedicate ourselves to being merciful with others as the Father has been with us." (Pope Francis – 'Misericordiae Vultus 14)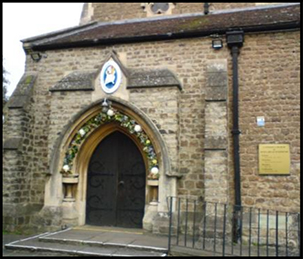 One day in early March, before cock-crow, I set off for Abingdon with a friend. Bishop Philip Egan had nominated the Church of Our Lady and Saint Edmund, Abingdon, as the second church in the Diocese of Portsmouth, after the Cathedral, to have a Holy Door (see picture – above) in this special Jubilee Year of Mercy inaugurated by Pope Francis.
We were travelling by car and ferry via Portsmouth and arrived at the church well in time for 9.30 am Mass. In order to gain the Plenary Indulgence attached to the pilgrimage, we had the opportunity to fulfil the requirements: go to sacramental Confession, hear Mass and receive Holy Communion, and pray for the intentions of the Holy Father for March 2016; namely,
"that families in need may receive the necessary support, and that children may grow up in healthy and peaceful environments' and 'that those Christians who, on account of their faith, are discriminated against, or are being persecuted, may remain strong and faithful to the Gospel, thanks to the incessant prayer of the Church'.
I had already been in touch with Father Philip Carroll, assistant priest and co-ordinator of 'Holy Door' events at the church. At the start of Mass he kindly welcomed us as pilgrims from the Isle of Wight and a few others from elsewhere in the diocese. Front benches were occupied by children from the school who remained attentive and well-behaved. After the Gospel we renewed our Baptismal Vows.
After Mass we looked around the church which is about 150 years old. It was in 1857 that Sir George Bowyer – a convert and wealthy Knight of Malta – ploughed a lot of his money into the building of the church.
The Altar of Our Lady of Abingdon is to the left of the sanctuary. The Shrine of Our Lady of Abingdon was once as famous as the one at Walsingham is today. For years the headless and nameless statue stood on the sanctuary floor of Saint Edmund's Chapel, unrecognisable. In the 1940s, Canon Sexton, parish priest at the time, traced its origins to that of a shrine near Abingdon visited by many people in the Middle Ages, especially those who had travelled from abroad to visit the once-famous 'Sunnyg's Well' (Sunning Well) which apparently cured the blind. The statue was removed and defaced during the Dissolution of the Monasteries and was found in the wall of the 'Sow and Pigs' public house at nearby Culham and given to the church about 1949. Canon Sexton had the statue restored to its former glory and original medieval colours.
To the right of the sanctuary is the Chapel of Saint Edmund, also known as Edmund Rich or Saint Edmund of Canterbury. He is one of our diocesan patrons. Born about 1175, his parents, Reginald and Mabel, gave him an austere upbringing. He went up to Oxford at the age of 12, later to Paris to study theology. He returned to Oxford University about the year 1214 as Regent of Theology. In the eyes of his students he was something of a character. Long hours at night spent in prayer found him nodding off during his lectures. He would awake with a start and say: 'I was not sleeping…just thinking!' He would not take payment from poor scholars.
He was appointed Treasurer of Salisbury Cathedral in 1222 until Pope Gregory I appointed him to the Archbishopric of Canterbury when it became vacant. His seven years at Canterbury were unhappy ones, largely due to his conflicts with the King, Henry III. Edmund was determined the Church should be in the hands of those dedicated to God. He was determined, too, that church revenues were spent on needs of worship and needs of the poor; not on the King's favourites or foreign wars. He was happiest amongst ordinary people, instructing them and teaching them to pray – 'five words well said are better than five thousand without devotion' – reconciling sinners and teaching them to die well. He had been reluctant to become Archbishop, but showed great moral courage and diplomacy in dealing with political intrigues. His greatest success was as peacemaker; reconciling the King and his barons and averting civil war.
Edmund set out on an 'ad limina' visit to Rome with much in mind to discuss with the Pope. When he reached Pontigny in Burgundy he was a dying man. He turned back in the hope of reaching England, but died at Soisy on 16 November 1240. He was buried in Pontigny Abbey where his body remains. He was declared a saint in 1246. His feastday is 16 November.
On leaving the church, we went on a walkabout in Abingdon which holds claim to the title of Britain's oldest town. We were guided some of the time by a parishioner, a former councillor and mayor. He was keen to take us to Abbey Gardens where, in the large expanse of grass, we saw narrow brick paths depicting the outline of the great church of Abingdon Abbey. The Benedictine abbey was probably founded in the late 7th century, but its greatest days started when it was re-founded by Bishop Aethelwold and the Wessex kings about 950. It remained one of the foremost of the English abbeys and, at the Dissolution of the Monasteries under Henry VIII, its income was assessed as the sixth largest in the country. It was probably the greatest landowner in the county of (then) Berkshire. The Abbey church was of a size comparable to any of the great cathedrals. It is said that Henry VIII first considered banishing the monks and turning the Abbey into a royal residence, but in February 1538 the Abbey was the first of the great abbeys to be dissolved. The Abbot and twenty-four monks were given pensions or found other positions.
As Littlemore is only a few miles from Abingdon, we planned to give our pilgrimage a further destination. Thus, we set off towards 0xford; somewhere en route crossing the border into the Archdiocese of Birmingham.
Blessed John Henry Newman, (see picture – above) together with a few friends, lived at 'The College', Littlemore, from 1842-1846. It was here that he, and two others, were received into the Catholic Church on 9 October 1845 by the Passionist, Blessed Dominic Barberi, an Italian missionary.
Since 1988, the Society of 'The Work' is taking care of Littlemore where an international centre of Newman's Friends is run by a small community of religious sisters. We were warmly welcomed by Sister Bianca. It was just before midday and we joined her in the little Chapel, together with two other Sisters and a retreatant, for the Office of Sext…and, yes, we had passed through yet a second Holy Door.
We had brought a picnic lunch thinking we might find a quiet spot somewhere. The day was fine but with a chill wind. Never in our wildest dreams would we have expected our picnic lunch venue to be Newman's Library which Sister Bianca put at our disposal; two tables at one end already set with white cloths. Afterwards, we were free to study at length the substantial and specialised collection of Newman-related literature, pictures, sculptures, letters and other memorabilia. Newman's own library is now housed at the Birmingham Oratory. We were, indeed, very privileged to study all these treasures at our leisure until Sister Bianca returned to show us Newman's bedroom; among the items a very small writing desk at which Newman wrote hundreds of letters with a quill pen. After a few moments of prayer back in the Chapel, and veneration of a relic, we thanked Sister for her welcome and hospitality, bade her farewell and began our journey home, this time via Southampton. We had spent a wonderful day and one which both of us shall long remember. Deo gratias.