Yvonne Rowles 1943 – 2018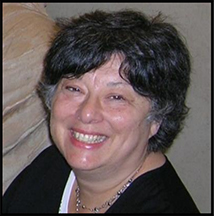 Yvonne was a stalwart member of St. Michael's community at Bembridge, an enthusiastic member of the choir, a reader and a former member of St. Mary's Parish Council. She was a good friend and colleague to us all.
It is a feature of any Christian church, that amongst its community, there are always a few people totally dedicated to its mission and work and an inspiration to others. Yvonne was such a person here at St. Michael's in Bembridge. These attributes are even more important in places like Bembridge, where a Catholic community exists, without a resident priest as its leader and focal point.
Yvonne was born in 1943 in India under British rule. In 1949, due to the rising troubles and Indian independence, the family moved to Cardiff.
She met her husband Ian at Swansea University and they married in 1966. They subsequently moved to Southampton, where Yvonne became Head of History at St Anne's Catholic School for girls, before moving to the Island in 1976 following the birth of their son Dominic.
Her husband was Head of Languages for many years at Ryde High School before his death in 1997.
Yvonne taught English at the Isle of Wight College, and then spent twenty years managing education at HMP Albany, helping hundreds of students to improve their literacy.
She later met Howard Duffus, a former Barrister who had returned to the Island from Hong Kong, with whom she spent the next decade in close companionship, travelling widely.
Here at St. Michael's she was the backbone of the church choir. Fellow chorister, Christine Behan records:-
"Even after her initial illness, when she had partially recovered, she was back singing again with her beloved choir. Always sorting out carols for Christmas and being a tower of musical strength and a support to all. She had organised the readers at Mass for many years; and however many phone calls she got about changes of dates, she took them with good grace and sorted everything out efficiently".
She is seen here (below) in the centre with St. Michael's choir members.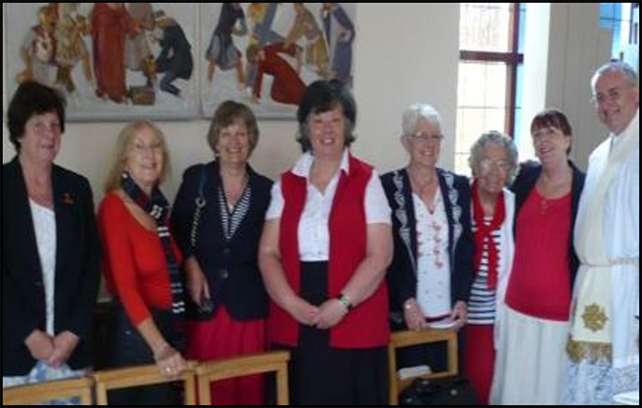 Yvonne was one of those people who quietly worked to see that things were done properly and that everything was organised, always very efficient, with attention to detail. This made her a good organiser. She also had the ability to be inclusive, – to make everyone feel a part of a group or community and valued everyone's contribution. She was the principal ecumenical co-ordinator in Bembridge; making sure that St. Michael's was always involved in the Christian life of the village. Ecumenical relations in Bembridge have always been strong. In a small community most people know each other anyway. Consequently, there already exists a good degree of co-operation and support. Yvonne certainly fostered this. She was responsible for St. Michaels entry in the Bembridge Parish Magazine, making sure that St. Michael's was on the Bembridge map.
Yvonne organised the CAFOD stall as part of the Combined Churches Fair in Bembridge Village Hall and for many years Yvonne also organised the Silent Auction held by St Michael's as part of the Bembridge Festival in May.
Christine Behan writes:-
"She was a great hostess and usually the two of us would be at Yvonne's kitchen before the sale going through the lovely (and sometimes unlovely!) things people had donated. The day of the sale was always great fun and through the years hundreds of pounds was raised for CAFOD. I remember laughter, good fellowship and loads of smiles".
She was a great friend and supporter of Island Catholic History Society and had been its vice-chair for the past ten years. A passionate historian, she had undertaken a vast amount of research for the society and had written seven different booklets on various aspects of the Island's Catholic heritage and given several talks to different groups / societies. Her knowledge of her subject shone through and one was always left feeling enthused for more detail. We have much to thank her for in the Island CHS.
It was Yvonne who was instrumental in having our web site upgraded a year ago. She was certainly an "outreach" person. Always encouraging the CHS to be positive in seeking new members, and to this end we went on Facebook and developed fortnightly E. News to supplement our (hard copy) newsletter.
Her interest in local Catholic history and, in particular, the valuable contributions made by such figures as Sir John Simeon (Victorian Island MP), Marconi (scientist), Elizabeth Heneage (benefactor), Alfred Noyes (writer), William Ward and Helen Gladstone (prominent converts), led to her writing booklets on all these noted figures. In addition, she promoted the cause of the two brave Island martyrs, Blessed Robert Anderton and Blessed William Marsden, who gave their lives so heroically for the Faith here on the Island in 1586. At the time of her death, she was working on another book, – Isle of Wight Christian names and places". Sadly this remains unfinished.
Yvonne loved St. Michael's in Bembridge. She contributed greatly to the celebrations for the golden jubilee of the church in 2015 and to the booklet produced on the church's history. "It is important", she said, "that although St. Michael's is modern, contemporary, nevertheless, we must remember, and celebrate the contribution made by those who have gone before us".
We often reflect on events with a critical eye and to see what has been achieved and make an assessment of people's stewardship. It also helps us to appreciate the dedication, wisdom, courage and determination of those around us. When we look at Yvonne's stewardship, we find that she has ticked all the boxes and in no small way, made a positive contribution to the life of St. Michael's.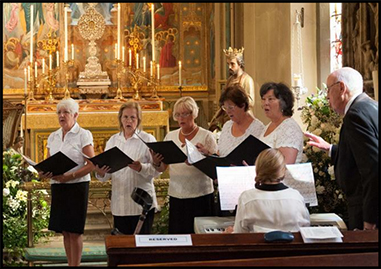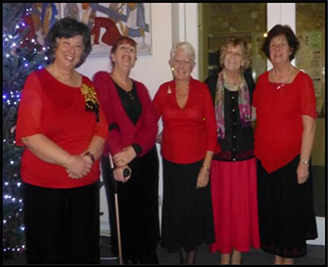 Yvonne is seen above with St. Michael's choir singing at St. Mary's, Ryde for the 150th anniversary celebrations in September, 2013; and in the same year, with the choir in St. Michael's at Christmas.
Former parish priest, Fr. Anthony Glaysher recognised Yvonne's work. He records:- "The vibrant community at St. Michael's has many special gifts and talents, not least in forwarding our ecumenical relations with the other Christian traditions. Yvonne was instrumental in fostering this caring community and considered kindness of our parish family, which I personally experienced when I would come to Bembridge".
Fr. Glaysher will be offering Requiem Masses for Yvonne in Aldershot; as will Fr. Jonathan Redvers Harris at St. David's, East Cowes.
Today, the Island Catholic History Society (of which Yvonne was proud to be the Vice Chair for the past ten years) is one of the largest local Catholic History Societies in the country. This is thanks, in no small measure, to Yvonne's work in raising our profile and promoting us throughout the Island.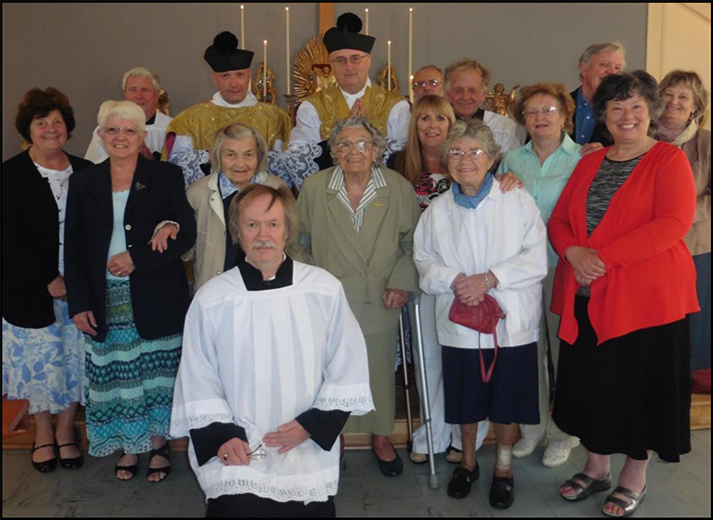 Yvonne is seen here (above) with members of St. Michael's community in June, 2015 after Mass to celebrate the golden jubilee of the church.
Yvonne died peacefully on 16th March, aged 74, at the Earl Mountbatten Hospice in the presence of her son, and surrounded by her family in the final days. She leaves her partner, son, grandson, and a future granddaughter due to be born in August.
Requiescat in pace.