Abbot Cuthbert Johnson OSB
1946 – 2017
A Solemn Requiem Mass was celebrated at Quarr on Monday 30th January for the eternal repose of the soul of Abbot Cuthbert Johnson (abbot of Quarr from 1996 to 2008) who died peacefully on 16th January, aged 70, in Holy Cross Care Home, at Sunderland, where he had been admitted after being diagnosed with a brain tumour.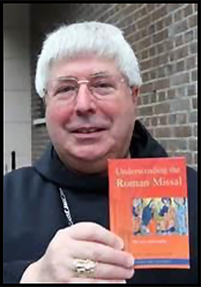 His Funeral Mass was offered at St. Aloysius Church, Hebburn, Northumberland, followed by the burial at Hebburn cemetery, according to the wishes of Abbot Cuthbert and his family.
The Solemn Requiem at Quarr Abbey was attended by Abbot Xavier, Abbot Cuthbert Brogan of Farnborough Abbey and Abbot Finbar Kealy, (former Abbot of Douai and Prior – Administrator of Quarr), together with twelve priests.
In his homily, Abbot Xavier told the congregation that, when visiting Abbot Cuthbert recently, he found him at peace both with God and with himself. It was providential in many ways that this Solemn Requiem was on the anniversary of the death of Dom Prosper Gueranger, the first Abbot of Solesmes, who died on this day in 1875. Abbot Cuthbert was greatly inspired by Dom Prosper, ever since he completed his doctrinal thesis on him as a young monk. It was this that inspired his love and interest in liturgy and worship.
Abbot Cuthbert was born in Hebburn in 1946, where his father was a welder in a shipyard. While attending St. John's College, Southsea, he came into contact with Quarr Abbey and entered the novitiate in September 1964.
He made his monastic vows in 1966 and, after ordination to the priesthood in 1973, he began his lifelong interest in liturgical theology and practice with studies in Rome.
In 1983, he was appointed to the Congregation for Divine Worship, where he continued to work until his election as the fourth abbot of Quarr in 1996.
He was by nature an academic liturgist. As Fr. Xavier reminded the congregation: "the liturgy shaped his very life. As a young monk, he showed a great zeal for the divine office. His musical abilities allowed him to make a special contribution at the organ and in Gregorian Chant. In a deeper sense, though, he strove to make of his whole life a liturgy of praise to God. He knew that external worship is of little value if it does not become more and more the expression of the internal sacrifice and praise of the soul".
Abbot Cuthbert's publications list, many of them in scholarly journals, span over 35 years. A few were done in collaboration with his brother Stephen, but the majority were co-authored with Anthony Ward, an English Marist, who also worked at the Congregation of Divine Worship. They formed a rich vein of scholarship, particularly on the prayers of the Mass. He was also an accomplished musician.
Abbot Cuthbert was responsible for significant improvements in public access to the church and pilgrim chapel — he opened a substantial area of the monastic gardens and the teashop.
He had great interest in the Island and also served for a while as chairman of Fishbourne Parish Council.
Abbot Cuthbert was very supportive of the Isle of Wight Catholic History Society, particularly in its early days of 2001 / 2002. He had a very comprehensive knowledge of the Island's Catholic history and his advice and wise counsel was a valuable asset to the society. He came to address several meetings, the last one being at the dinner for the English Catholic History Society in 2007, when he reminded people of our proud history and the heroic fight of the English martyrs, to sustain the Catholic faith in adversity. He was a great admirer of Bishop John Baptist Cahill (former parish priest of Ryde and 2nd Bishop of Portsmouth). It was with the bishop's support and encouragement that the Benedictines moved first to Appeldurcombe, near Wroxall in 1901, and then, seven years later, to Ryde, on the site adjacent to the old Cistercian abbey. Without this active support from Bishop Cahill (who is buried in Ryde cemetery), the Benedictines would not be at Quarr today.
After 12 years as abbot, he retired in March 2008, announcing at the time:-
"Quarr Abbey is now ready to pass through a new stage and to enter into a transitional period. After due reflection and prudent counsel the present moment seems an appropriate one in the history of the monastery to provide for new leadership. Therefore, I have decided to retire from the office of Abbot in which it has been my privilege to serve the monastic community of Quarr".
After serving for some periods as a convent chaplain, Abbot Cuthbert returned to work in his native diocese of Hexham and Newcastle.
When his health deteriorated, he was admitted to a nursing home, where some of the monks of Quarr visited him.
Abbot Xavier told the congregation at the Requiem Mass that he found Abbot Cuthbert towards the end with "a humble and genuine desire for God. There was the usual cheerfulness of character, despite his ill health".
Abbot Xavier also spoke about death, which he described as "like moving from one house to another; from a temporary building to an eternal dwelling ………….. in preparation for death we need the Church with its sacraments and the consolation of the scriptures. Abbot Cuthbert needs our prayers and our fraternal support as he journeys to Almighty God"
Requiescat in pace!