Sir John Simeon – Catholic M.P. for the Isle of Wight
New booklet – Written by Dr. Paul Severn. Reviewed (here) by Fr. Jonathan Redvers Harris
Only last month,150 years after the death of Sir John Simeon, the memorial cross erected in his honour, at the junction of Carisbrooke Road and Castle Road in Newport, was sadly defaced by graffiti. Happily, however, this act of vandalism is more than compensated for by the publication of this fitting tribute to the life and times of this great Victorian liberal country gentleman, penned in characteristic style by Dr Paul Severn.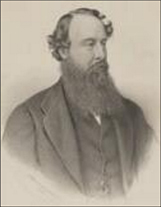 This Sesquicentennial Anniversary Essay, written with charm and an eye for detail, illuminates the contribution made by Sir John, especially to our Island's civic life. Sir John was a "convert" from Anglicanism to Catholicism, and his life intertwined with that of Cardinal – now Saint – John Henry Newman, who was a visitor himself to the Island. His principled resignation of his parliamentary seat upon his reception into full communion with the Church of Rome was an act of graciousness and honour, and his subsequent re-election by the Island people eloquently speaks of the esteem and respect in which he was held. Nor were Sir John's interests and contribution confined to the political and civic spheres, and Dr Severn reminds us of his friendship with Alfred Lord Tennyson and the literary circles of Island life.
I commend this essay, commemorating an outstanding and truly liberal figure, capable of acts of warm ecumenical generosity, and fittingly himself laid to rest in the Anglican church in Calbourne upon his death at 55 years old.
Fr Jonathan Redvers Harris
(Anglican Vicar of Ryde 2003-2011, and thereafter a Catholic priest)
---
The booklet is available from the Isle of Wight Catholic History Society. E.mail iow-chsREMOVE@outlook.com