Mass at Island Martyrs' memorial
Mass was offered by Fr. Jonathan Redvers Harris on the Third Sunday of Easter outside St. Thomas of Canterbury Church at Cowes. Taking the place of the usual 9am Mass in the church building, this Mass (Ordinariate) was outside the church at the memorial to the two Isle of Wight Martyrs, Blessed Robert Anderton and Blessed William Marsden. The day was significant as it marked the anniversary of their martyrdom in 1586.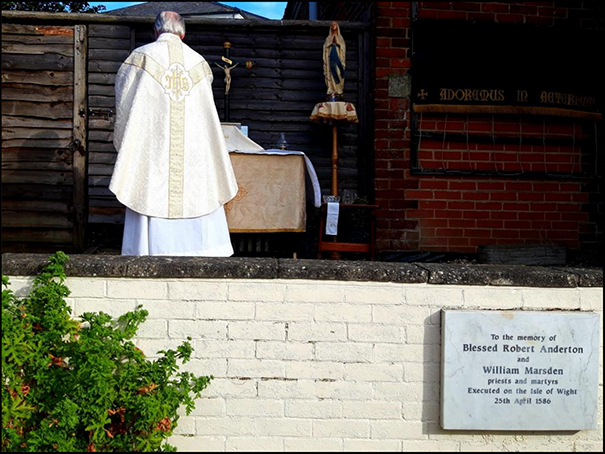 The Mass, of course, was private, for those only in the priest's immediate household, but being at the Martyrs' memorial garden meant that it would, in effect, be possible for anyone taking their Sunday morning exercise to observe at a distance.
These two martyr – priests were captured on the Island, as their ship took shelter at Cowes during a storm at sea. After a trial in London, they were returned to the Island for execution.
A simple memorial stone recording their heroic sacrifice was erected outside the church by Fr. Michael Purbrick (former parish priest) in 2003, on the site of the former parish schoolroom .After the Mass, Fr. Jonathan, echoing the words of Fr Timothy Finigan after the original blessing of the memorial, spoke of the strength and courage of the two martyrs:-
"In the dark days of the penal times nothing is more inspiring than the selflessness and devotion of the martyrs who returned to England like Fr. Anderton and Fr. Marsden, to say the immemorial Mass and to keep alive the One True Faith that was once firmly established within these shores for a thousand years until the Reformation. This simple monument placed here in the garden of St. Thomas of Canterbury Church, Cowes; the place where the two martyrs were arrested, is a fitting reminder of their love of Christ and His Holy Church and their determination in adversity to do His holy will.
The heroic sacrifice of the martyrs encourages us to maintain our devotion to the Mass and the Sacraments and Fidelity to the Holy Catholic Church and all that it teaches. We thank God for these two brave young priests and we ask Our Blessed Lord to inspire us with the same zeal that they so honourably portrayed as they suffered death and attained the martyr's crown".
A booklet on the life and martyrdom of these two brave martyr-priests has been written by Dr. Paul Severn. It is available from the Island CHS at £2-50
This Sunday Mass at their memorial was offered for the eternal repose of the soul of Monsignor Antony Conlon, who died on Low Sunday at the Sue Ryder Hospice in Reading, where he had been receiving end of life care. He was at one time chaplain at the Oratory School, Reading, and latterly served as Parish Priest at Goring on Thames and Woodcote.
He came to the Island on several occasions both for a holiday and to assist with Masses and to give pastoral support to clergy.
Requiescat in pace