Catholic gifts and vestments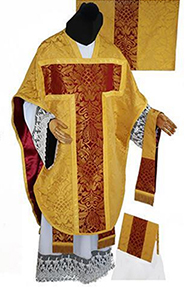 The Island CHS is pleased to introduce Clare Short. She says:-
"I am a 39 year old Mother of three children. I've been married for 19 years. I am also a secular Carmelite. I began by making one set of vestments for a priest friend, and then suddenly started receiving other orders! My priest friend told me I should start a business.
Today Di Clara offers a whole range of Catholic gifts and vestments. Di Clara's main aim is to help restore beauty and reverence to the Liturgy through beautiful vestments, and also to share the beauty and joy of Catholicism through the products we sell".
The picture above shows Clare presenting vestments that she made to Pope Emeritus Benedict two years ago on the occasion of his 90th birthday.
Why not visit Clare's web site and see the wide selection of gifts, mantillas, vestments etc that she makes, which are suitable for all Catholic occasions:- www.diclara.co.uk