Year of St. Joseph 2020 – 2021
The Pope introduced the Year of Saint Joseph, to celebrate the 150 years of his Patronage over the Universal Church.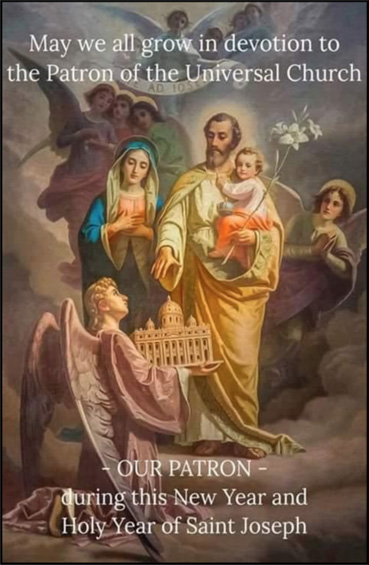 The pope has approved a set of new plenary indulgences, available until December 8, 2021. The details are the following:-
Conditions for the plenary indulgence
The plenary indulgence is granted to the faithful under the usual conditions (Confession, Holy Communion, and prayer for the Pope's intentions) to those who, with a spirit detached from any sin, participate in the Year of St. Joseph on these occasions and manners indicated by the Apostolic Penitentiary:
– The plenary indulgence is granted to those who will meditate for at least 30 minutes on the Lord's Prayer, or take part in a Spiritual Retreat of at least one day that includes a meditation on St. Joseph.
"St. Joseph, an authentic man of faith, invites us", the decree reads, "to rediscover our filial relationship with the Father, to renew fidelity to prayer, to listen and correspond with profound discernment to God's will."
– The indulgence can also be obtained by those who, following St. Joseph's example, will perform a spiritual or corporal work of mercy. St. Joseph "encourages us to rediscover the value of silence, prudence and loyalty in carrying out our duties," the papal decree notes.
– The recitation of the Holy Rosary in families and among engaged couples is another way of obtaining indulgences, in order that "all Christian families may be stimulated to recreate the same atmosphere of intimate communion, love and prayer that was in the Holy Family."
– Everyone who entrusts their daily activity to the protection of St. Joseph, and every faithful who invokes the intercession of St. Joseph so that those seeking work can find dignifying work can also obtain the plenary indulgence.
On 1 May 1955, Pope Pius XII instituted the feast of St. Joseph "with the intent that the dignity of work be recognized by all, and that it inspires social life and laws, based on the fair distribution of rights and duties."
– The plenary indulgence is also granted to the faithful who will recite the Litany to St. Joseph for the persecuted Church and for the relief of all Christians suffering all forms of persecution. Because, the decree notes, "the flight of the Holy Family to Egypt shows us that God is there where man is in danger, where man suffers, where he runs away, where he experiences rejection and abandonment."
A universal saint
In addition to these, the Apostolic Penitentiary grants a plenary indulgence to the faithful who will recite any legitimately approved
prayer or act of piety in honour of St. Joseph, for example, "To you, O blessed Joseph" (this prayer is set out at the end of this newsletter).
The decree recalls the universality of St. Joseph's patronage of the Church, noting that St. Teresa of Ávila recognized him as "a protector for all the circumstances of life". Pope St. John Paul II also said that St. Joseph has "a renewed relevance for the Church of our time, in relation to the new Christian millennium."
A saint for the sick
Amid the ongoing Covid-19 health crisis, the gift of the plenary indulgence is also extended to the sick, the elderly, the dying and all those who for legitimate reasons are unable to leave their homes.
They too can obtain the plenary indulgences if they are detached from any sin and have the intention of fulfilling, as soon as possible, the three usual conditions and recite an act of piety in honour of St. Joseph, offering to God the pains and hardships of their lives.
St. Joseph's Church, Niton
Only one church on the Island was dedicated to St. Joseph. This was the little Catholic church (or rather a chapel) at Niton. A former Methodist church, it was purchased and opened in 1969 to cater for the increasing number of Catholics south and west of Ventnor. This time was nearing the peak of church attendance for Catholics and, initially, it was well used, with a Sunday Mass at 8-30am. Sadly, it closed in 2007.
The CHS is short of information (and photographs) of this church. Can anyone help? This would be appreciated.
In search of St. Joseph on the Island
There are very few references to St. Joseph here on the Island.
There was a St. Joseph's Close in York Avenue, East Cowes (1923 – 38) which was associated with the naval college College. Can anyone assist with more information about this college?
It was reported that there was an annual Corpus Christi Procession in the college grounds.
There is also a St. Joseph's Close in East Cowes.
There is a St. Joseph's Hotel in Madeira Road, Ventnor. Does anyone know anything about its history. It would be good to discover that it was named after Jesus' foster father.
Joseph Hansom – Architect
After Augustus Pugin, probably the most accomplished Catholic church architect in the early / mid Victorian period, was Joseph Hansom (1803 -82). Pugin recommended him to design St. Mary's, Ryde in the 1840s. This was one of his earliest churches. He went on to design other Catholic churches, notably, three cathedrals, – Arundel, Plymouth and Killarney. He is probably best remembered however, as the designer of the "Hansom" cab.
The House of St. Joseph
Veronica Nevard and Sheila Macrae are two CHS members in Ryde. When they moved to their present home in Bullen Road, Ryde in 2010, they not only named the house "St. Joseph's", but had it blessed and dedicated in honour of Our Lady's husband. After Mass at St. Mary's on the Feast of Pentecost, 2010, Fr. Armand de Malleray FSSP, (picture below) blessed the new home and placed it under the protection of St. Joseph, Patron of the Universal Church.
Two former CHS members (Lyn and Lucie – now deceased) also had their house in Bembridge blessed and named after St. Joseph.
Images of St. Joseph
There are not many images of St. Joseph in stained glass in our churches. There was one in St. Wilfrid's, Ventnor, which was lost when the church burnt down in 2007.
Most of our churches have a statue of St. Joseph. This will, no dioubt, become a focal point for our prayers and devotions during this forthcoming year.
There is a statue of St. Joseph was donated to St. Mary's, Ryde in the 1850s by Elizabeth, Countess of Clare (foundress of the church). Until the 1970s it was situated on a wooden plinth at the chancel arch; with the statue of Our Lady on the opposite plinth. It was then moved to its present position in the church, near the Lady Chapel. St. Joseph is seen here holding a lily, – a symbol of holiness and purity.
There is a side altar dedicated to St. Joseph in the transept at Quarr Abbey; and there is a stained glass window of the saint in St. Saviours' Church at Totland to the north (left) of the altar. There was also a Victorian window depicting St. Joseph at the old St. Wilfrid's Church in Ventnor.
First E.F. Mass at St. Thomas's, Cowes.
The first (Post Vatican II) Latin (E.F.) Mass at St. Thomas's, Cowes was offered by Fr. Martin Edwards on the Feast of St. Joseph, 2002, at the invitation of the parish priest, Fr. Michael Purbrick. After the Mass Father gave Benediction.
In his sermon at the Mass, Fr. Edwards spoke about the importance of St. Joseph as a father figure and guardian of Jesus and Mary. He is an example to all fathers. Father stressed their importance in the family unit, particularly at a time, when there are so many marriage breakdowns.
Wedding on the Feast of St. Joseph
Easter Sunday in 2008 was on 23rd March. This is about the earliest it can be. St. Joseph's Day (19th March) could not be celebrated during Holy Week, nor the subsequent Octave Week of Easter. Hence, the feast day was transferred to 1st April.
A young couple in Ryde considered that this was a most appropriate feast day on which to get married. (Picture below).
All the readings and prayers at their Nuptial Mass were those for the Feast of St. Joseph. It was later discovered that this was only the second wedding on this feast day in St. Mary's, Ryde since the church was opened in 1846.
St. Joseph's, Aldershot
Fr. Anthony Glaysher was (as he said) "over the moon", when he discovered in 2008 that the bishop had appointed him as parish priest of St. Mary's, Ryde. Although sad to leave Ryde, he was equally happy to find that his next parish in Aldershot, was dedicated to Mary's husband, St. Joseph. "From Mary to Joseph" people remarked! Father had a great devotion to St. Joseph. On feasts of St. Joseph, there was always prayers, litany and "Hail holy Joseph, Hail" (hymn to St. Joseph).
A group from the Island visited Fr. Glaysher at Aldershot last year and were given a talk and guided tour of St. Joseph's Church.
National Shrine of St. Joseph
Few people are aware of this national shrine at Farnborough (Benedictine) Abbey, situated in our Diocese of Portsmouth. The shrine is situated in a side chapel to the right of the high altar in the abbey church (photo – below). The statue was crowned by Cardinal Henry Manning with a special permission granted by Blessed Pope Pius IX. It seems likely that this will become the focal point of pilgrimages during this Year of St. Joseph.
St. Joseph's Patronage
St. Joseph is the Patron of:
Fathers
Unborn children
Immigrants
Pilgrims & travellers
The Josephites
Under the patronage of St. Joseph, they are sometimes referred to as "Sons of St. Joseph", and are a Catholic clerical religious congregation of pontifical right (for men) devoted to the Catholic education of children. They were founded in the Diocese of Ghent (Belgium) in 1817. They opened a school in Croydon in 1869. The school moved to Woburn Park, Weybridge in 1884.
Feasts of St. Joseph
There are three feasts associated with St. Joseph:-
The Feast of the Holy Family; Jesus, Mary & Joseph; which is celebrated on the Sunday after Christmas
The Feast of St. Joseph; husband of Mary and foster father of Jesus on 19th March.
The Feast of St. Joseph the worker on 1st May.
Prayer in honour of St. Joseph
This is the prayer to St. Joseph with which most of us will be most familiar.
"To thee, O blessed Joseph, do we come in our tribulation, and having implored the help of thy most holy Spouse, we confidently invoke thy patronage also. Through that charity which bound thee to the immaculate Virgin Mother of God and through the paternal love with which thou embraced the Child Jesus, we humbly beg thee to graciously regard the inheritance which Jesus Christ has purchased by his Blood, and with thy power and strength to aid us in our necessities.
O most watchful Guardian of the Holy Family, defend the chosen children of Jesus Christ; O most loving father, ward off from us every contagion of error and corrupting influence; O our most mighty protector, be propitious to us and from heaven assist us in our struggle with the power of darkness; and, as once thou rescued the Child Jesus from deadly peril, so now protect God's Holy Church from the snares of the enemy and from all adversity; shield, too, each one of us by thy constant protection, so that, supported by thy example and thy aid, we may be able to live piously, to die holy, and to obtain eternal happiness in heaven. Amen".