Two Victorian Ladies
(Our society is always pleased to receive historical articles from members. On this occasion we are delighted to re-produce an excellent article on the Venerable Frances Taylor and Lady Georgiana Fullerton, written by Sheila Macrae and Veronica Nevard, two of our Ryde members. Their story and their conversion to the Faith, has similarities with that of the Countess of Clare and Charlotte Elliot here in Ryde).
On the Feast of St. Anthony of Padua, 13 June 2014, Pope Francis declared Venerable, Mother Magdalen of the Sacred Heart (Frances Taylor). The story of this early Victorian lady may be of interest to readers as there are parallels to be drawn between her life and foundations, and those of Elizabeth, Countess of Clare who founded St. Mary's Church in Ryde.
Fanny Taylor, born on 20 January 1832, was the youngest of 10 children of the Church of England Rector of Stoke Rochford, Lincolnshire. When her father died in 1842, the family moved to London. Mrs. Taylor had spent the first nine years of her married life in Kensington, so had many connections in London society. A friend at this time remembered the happy, devoted family and the enjoyable holidays (to the Isle of Wight, among other places) they all spent together. The atmosphere of the household was deeply religious, with a strong High Church leaning and at age 16 Fanny followed her elder sister into an Anglican sisterhood. Not feeling the life was for her and, despite working through an outbreak of cholera, she returned home within the year and resumed, from there, her work with the London poor.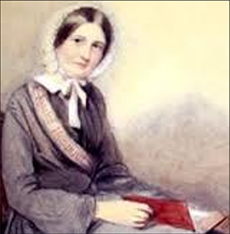 In 1854, the war in the Crimea broke out and an urgent appeal for volunteer nurses was raised. Bishop Thomas Grant of Southwark offered the services of five Sisters of Mercy and five sisters of the Faithful Virgin from Norwood joined them. In all, 38 volunteer ladies accompanied Miss Florence Nightingale to Scutari. As an act of obedience to her Anglican director, Fanny Taylor (see picture – above), decided she would volunteer and travelled to Turkey in the second detachment. In Scutari, she was sent to work under Miss Nightingale and was brought into daily contact with the five Sisters of Mercy whose devoted care of the wounded, under the most harrowing conditions, made a lasting impression on the young volunteer. It was, however, to the faith, resignation and patience in suffering and death of the Irish Catholic soldiers that she attributed her conversion. (It was these Irish soldiers who taught her to say the Dolour Rosary which was to become a favourite devotion in her Institute.) She was received into the Catholic Church the following year, by the Jesuit Chaplain at the camp. This was the start of the close connection she was always to have with the Jesuits. In November 1855, Fanny returned to England as a Catholic. She continued to live at home but now her work for the poor was under the direction of Dr. (later Cardinal) Manning.
Fanny was becoming increasingly drawn to the religious life and at the start of 1861 she tried her vocation with the Daughters of Charity in Paris. She considered, however, that she should be supporting her family and returned home, where she concentrated on writing Eastern Hospitals and English Nurses based on her experiences of nursing the wounded in the Crimea. This book was very well received. It was followed by Tyborne which proved to be an even greater success and Lady Georgiana Fullerton, (1812-1885), daughter of the 1st Earl Granville, a distinguished novelist and philanthropist, asked to meet the author. Lady Georgiana, (see picture – above), had been a heroine of Fanny's since her early youth and she recalled being stunned at age 14 to hear that Lady Georgiana had 'gone over to Rome'. With the discovery of their common interests in writing, and in working for the London poor, a close friendship developed. As this friendship of kindred spirits was growing, another was drawing to an end.
And it is here that we can see parallels with the foundress of St. Mary's Church in Ryde. The Countess of Clare, (See picture – above), some 40 years earlier had begun a friendship with Charlotte Elliott, a naturalised Prussian lady whom she met during the London Season. Having separated from her husband and determined to establish a new life for herself, the Countess moved, with Charlotte, to Ryde. Living together in Brigstocke Terrace, Charlotte would remain a dear friend and companion until her death in November 1861 (at the third Station of the Cross in St. Mary's Church). As with Lady Georgiana, Charlotte Elliott was a convert to Catholicism and of a most generous disposition. Bishop Thomas Grant officiated at her Sung Requiem Mass. Fanny needed a steadier income than that provided by an occasional book publication and this was obtained by contributing to Catholic periodicals. One in particular, "The Lamp", was struggling to remain in print and in 1862 she became its proprietor. The improvement in its standard, and its usefulness as an educational tool, was welcomed by the hierarchy who often agreed to contribute articles. In 1864, Miss Taylor began a more serious periodical, The "Month", under the direction of the Jesuits. After a few issues, she sold it to the Society. It remained in publication until 2001. During the first year of its existence, Miss Taylor interested Dr. Newman in contributing. Seeking copy, she once went and implored him for something to publish and after an excuse of having little time, he took from his waste paper basket, a manuscript thrown in as valueless and told her to use it if she thought it worth anything. This proved to be The Dream of Gerontius, now famous, particularly in Elgar's Choral setting. It could even have been written in Ryde, as Newman was staying there during 1865, the year it was first published in The Month.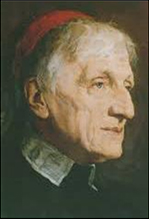 At this time, Newman (see picture – above), was resident in the Birmingham Oratory. He had brought the Oratorian vision to England and founded the first oratory in this country in Old Oscott, in a house he renamed 'Maryvale'. Another link with Ryde is that the Ordinariate Sisters of the Blessed Virgin are now in Old Oscott. (The Birmingham Oratory moved in Newman's time, to a new site in Edgbaston.) These sisters were members of the Community of St. Mary the Virgin, one of the oldest communities in the Church of England. On 1st January 2013, in response to the invitation of Pope Benedict XV1, they entered into full communion of the Catholic Church as part of the Personal Ordinariate of Our Lady of Walsingham. The next day, leaving behind the members of their community who did not wish to take this step, they travelled to Ryde and were received by the Benedictines at St. Cecilia's Abbey. Bringing with them a rich tradition of English Plainchant, they lived the Benedictine monastic life with the nuns until, August 2013, they moved to their new home in Maryvale.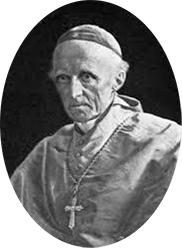 For many years Fanny Taylor had worked for the poor: the social companions of the Holy Family living in the slums of London. With the encouragement and practical support of Lady Georgiana and advice from the Jesuits, she wanted to put this work on a firmer footing. She began looking for premises where the poor could be received. A little house was found in Tower Hill and a small band of companions moved in. Fanny prayed and worked with her companions but lived at home with her mother. Mrs. Taylor was a very devout Anglican and had been greatly saddened by Fanny's conversion, although relations between them were always close and loving. At the beginning of February 1868, Mrs. Taylor died and by the end of the month Fanny had moved into the Tower Hill house and taken charge. Looking for a suitable rule of life for them to follow, and advised by Father Clare her Jesuit director, and financed by Lady Georgiana, she travelled across Europe to Poland, visiting many of the Congregations of Religious on the way and studying their rules of life, customs and spirit. On her return, she went into retreat and made her decision to found an order based on one she had visited in Poland. Father Clare, backed by Cardinal Manning, (see picture – above), insisted she must set up her own Institute, not merely a branch of the already existing one. Within the month, Father Clare had received Fanny Taylor and three companions as postulants. Their apostolic work reaped great rewards; at the end of a children's mission, 600 children received Holy Communion and 1200 went to Confession.
This busy work was not conducive to the formation of novices however, and a quieter environment was sought. A little cottage behind Grosvenor Square was rented and the postulants were allowed to begin their noviciate. Fanny took the name, Mother Magdalen of the Sacred Heart. A means of support was urgent. Needlework was tried but proved unsuitable. Laundry work eventually took off and larger premises were acquired in Cavendish Square. Here they were visited in October 1870 by the Archbishop (Manning) and Lady Georgiana. The Archbishop approved of all they were doing and gave permission for the Blessed Sacrament to be reserved. In 1872, Mother Magdalen made her first and final profession of the three vows of Religion: poverty, charity and obedience.
Still seeking support for the Institute which would enable it to be of more service to poor and vulnerable, Mother Magdalen acquired properties in areas outside central London, such as Beaumont and Roehampton. It was while in Beaumont (where the laundry from the Jesuit College provided a steady income) that she met Fr. Dignam who was to be her spiritual director when Fr. Clare was moved to Liverpool, and of such help to the Congregation which now numbered 83 sisters. He it was who took on the labour of drawing up the Constitution, Rules and Customs of the Congregation so that they could be submitted to Rome for approval. He did his work successfully; it was well received in Rome and in 1879, when Fr. Dignam happened to be giving a Retreat to professed nuns in Roehampton, Cardinal Manning arrived with the news that he had the Brief. The event was spoken of by Mother Magdalen as, 'one of the greatest joys of Lady Georgiana's life'.
The Institute continued to grow. A few sisters worked in Soho among the most destitute. Sisters would come from Roehampton each Saturday to help the small resident community by spending the night in prayer before the Blessed Sacrament in reparation for the sins which were being committed all around them. A large house in Brentford was bought and in its grounds mothers from Soho and Warwick Street parishes were brought by Lady Georgiana for picnics.
In 1876, Fr. Dignam was moved to St. Helens. Seeing the poverty around him he appealed to Mother Magdalen to send a few sisters to help. After the local Bishop had been prevailed upon to agree to the setting up of a small convent, Mother Magdalen set to work with six sisters. Living themselves in the direst poverty, two rooms were set aside for nursing sick women and children. Mother Magdalen soon saw this was insufficient and began making plans for the establishment of a hospital. Despite the suspicion of the local Protestants, the opposition of the Bishop and even Lady Georgiana's misgivings, she continued her prayers and labours and in 1884 the Providence Free Hospital became a reality.
At the same time as the Hospital was becoming established, Lady Georgiana's health was failing. By the end of 1884 it was evident she was not going to recover and on 19 January 1885, she died. Her body was brought to Roehampton for the Requiem and burial. At her own request her husband did not accompany the coffin as he himself was in poor health at the time. Those who went on the 2014 Isle of Wight Catholic History Society Pilgrimage to Bournemouth may remember that Fr. Barnes, welcoming us to the Sacred Heart Church, reminded us that we were sitting in pews which had been occupied by some celebrated personages. Among them, he named Lady Georgiana Fullerton. She lived in Bournemouth for the last decade of her life.
With her passing, Mother Magdalen had lost her dear friend and supporter and the Congregation's most important benefactor. Shattered by the loss of Lady Georgiana, fearing for the future and exhausted by her efforts in St. Helen's, Mother Magdalen nevertheless continued to visit her foundations, now also in Ireland and Rome, to write Conferences and Retreats for the sisters and to respond to the needs of the most unfortunate. She had always had an especial concern for vulnerable women whom she felt often suffered the most when times were hard. In the early days, the Sisters would make a point of meeting the boat trains arriving from Ireland in the hope that any young Irish women looking for work fell into their hands rather than those who were waiting to inveigle them into prostitution or other criminal activities. Providing work for the needy was the beginning of building self respect. In the most practical of ways she sought to alleviate poverty and instil an appreciation of the dignity of work. Work in the laundry could accommodate the unskilled and those with learning difficulties; houses in the country provided respite for the overworked and frail.
For the final fifteen years of her life, Mother Magdalen suffered from increasing ill health. Diabetes was diagnosed in 1894 but no treatment was available. She continued to pioneer new convents in London, Brighton, Paris and Ireland and to inspire and encourage all her sisters. On 10 June 1900, in her convent in Soho Square, she breathed her last.
That Mother Magdalen should have been declared Venerable in 2014, seems most apt. Such a declaration recognises a life of heroic virtue in following the theological virtues (faith, hope and charity) and the cardinal virtues (justice, prudence, fortitude and temperance). It is the first step on the road to canonisation.
In 2015, the Poor Servants of the Mother of God have houses in the United States, Kenya, Rome and Venezuela. Ireland has 15 houses and Great Britain, 14. Since the state has made provision for many of the previous areas of deprivation, the Sisters' work today is often with the aged, and those with learning difficulties. Increasingly in Britain they are found working with asylum seekers and refugees. The nearest Frances Taylor Foundation project to the Isle of Wight is in Hove. Here they have recently opened an Extra Care Supported Living development. It consists of self contained apartments designed to accommodate 12 persons with learning disabilities and provision for 24 hour on-site support. We have much for which to thank these two Victorian ladies and much we could imitate: their devotion to the Mother of God, their courage and generous response to the needs of the time. As we pray to Mother Magdalen and for the Countess of Clare, let us not forget a prayer for their steadfast and devoted companions, Lady Georgiana Fullerton and Charlotte Elliott.