The Priory School of Our Lady of Walsingham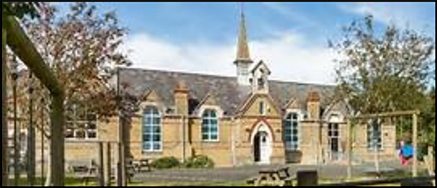 The Priory School at Whippingham is an independent co-educational day school for boys and girls from 4-18 years, founded in 1993, and, although non-denominational, is run with a distinct Christian ethos.
"Built by the Queen of England: dedicated to the Queen of Heaven" is one of the statements of Priory School, founded in 1993, with origins in the junior school of Upper Chine. The school at Whippingham was built by Queen Victoria in 1864. The independent school moved to the Whippingham site, in East Cowes parish, in 2012, and seeks to maintain a Christian ethos. To help nurture this Christian nature, the School, from this September, is to have its name extended to:- "The Priory School of Our Lady of Walsingham".
The Principal, Edmund Matyjaszek (one of our society members) sees Mary's "yes" – her free choice – at the Annunciation, as lying at the heart of the shrine of Our Lady of Walsingham, founded in 1061 in Norfolk and known as "England's Nazareth". This is also seen as the connection between England's identity as the Dowry of Mary, and the country's long defence of the principle of freedom. God is only honoured by the free service of his sons and daughters; that right to choose Walsingham and England uphold.
This is now the only secondary school in England to be dedicated to Our Lady of Walsingham and it has met with the enthusiastic approval of Bishop Philip Egan of Portsmouth (who was enthroned of the Feast of Our Lady of Walsingham, 2012), Mgr. Keith Newton (Ordinariate of Our Lady of Walsingham) and Mgr. John Armitage (Custodian of the Basilica at Walsingham).
The Island has a strong and historic affiliation with Our Lady, the Mother of God. Not only is this school dedicated to Our Lady, but also the abbey of Quarr (present and Medieval), as well as its largest Catholic church, that of St. Mary's in Ryde High Street, – the first church in England to be dedicated to the Sorrowful and Immaculate Heart of Mary (picture – below).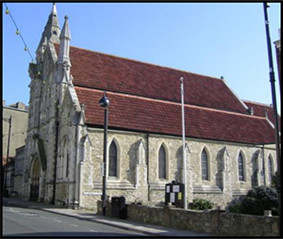 In addition, we remember that the first Christian church on the Island, founded by St. Wilfrid in A.D 686, at Brading, is dedicated to St. Mary the Virgin; and the first (Post Reformation) monastic institution established on the Island in 1866, namely, the Dominican Priory at Carisbrooke, was dedicated to Our Lady of Reparation and St. Dominic. This Marian title emphasises that this foundation was a small act of reparation for the destruction of the Medieval shrine at Walsingham 327 years earlier.