The Feast of Corpus Christi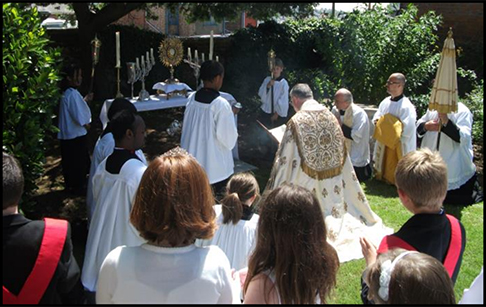 Corpus Christi Procession with Benediction in St. Mary's Church garden, 2012
Looking back through our church history, it is easy to see that the focal point of parish life was always First Communion Day and the annual Corpus Christi procession, – a public manifestation of our belief in the real presence of Our Lord in the Blessed Sacrament. Many of us still have photographs of the procession going around the local streets with the Blessed Sacrament carried by the priest beneath the canopy; marshalled by the Guild of the Blessed Sacrament, with children dropping flower petals as a floral carpet, and the singing of the time-honoured hymns "Sweet Sacrament Divine" and "O Bread of Heaven". These annual processions lost their impetus after Vatican II, but, thankfully, there is evidence of a gradual restoration of late.
We are pleased here to re-produce an article contributed by Jim Malia of Totland, reminding us that Jesus gave himself for us and he longs for us to come to him in this Sacrament of love.
"The joyous feast of Corpus Christi is the joyful re-enactment of the Last Supper which Jesus celebrated with his friends; – a celebration on that night overshadowed by thoughts of Our Lord's impending death".
Picture the upper room where the disciples have made arrangements for the pascal meal. The women are putting the finishing touches to the meal which they have so lovingly prepared. Jesus walks in quietly. He smiles equally quietly as he gazes around at his friends. Mary, his mother, is there, with her sister. With them the other Marys, Clopas and Magdalene, among the small group of women serving Jesus to the end. Peter and John are there waiting in silence for the Word of the Lord, and quietly, but in a voice charged with emotion, Jesus speaks:
"With longing I have longed to eat this pasch with you".
With longing. The moment has come. His life on earth has reached its climax. This is indeed his last supper.
"I have longed to eat this pasch with you".
Before the impending Sabbath, Jesus' earthly life will be no more. The thought lies heavy on his heart. Thirty-three years. First in Nazareth, the quiet sheltered life. Then in public ministry bringing the Good News of God's love to the people. The joy of the friendship of the simple people who followed him fills his heart. The sorrow of disappointment in those who turned their backs:
"Jerusalem, Jerusalem, how I have longed to gather you together as a mother hen gathers her chickens under her wing".
Jesus' longing for our love. It is all love. A new commandment I give to you: Love one another as I have loved you. And now he was to leave those that he loved so well. God came amongst us born of Mary. God the Son took human flesh by the power of the Holy Spirit in the womb of the Blessed Virgin.
And now: "I will be with you no longer"
His heart is low but he will not leave us orphans. He comes to us not as in the womb of Mary, but sacramentally in the form of bread and wine.
"I will give you my flesh to eat and my blood to drink".
Jesus gave himself to us as bread and wine in the Blessed Sacrament of love for all time, waiting for us to come to him, to consume him in Holy Communion, to be part of him, as he is a living part of us.
"This is My Body. This is My Blood. Do this for me".
"Jesus continues to live amongst us. We are part of him. When we receive Jesus in the Blessed Sacrament, our eyes are his eyes, our hands are his hands. Our love is his love. We are transformed into Other Christs. Jesus lives again".
Written by Jim Malia