Queen Victoria and Carisbrooke Priory
150th anniversary of Queen Victoria's visit to Carisbrooke Priory
Talk by Peter Clarke
50 years ago, Neil Armstrong uttered the immortal phrase: "One Giant step for man, one huge step for mankind". What a step for Science, astronomy, space travel and human endeavour.
150 years ago. Queen Victoria made such a huge step in terms of relations between the Crown, the Established Church in England and the Catholic Church and it took place here in this priory at Carisbrooke.
Maybe, not regarded as such a giant step as that which Neil Armstrong made, nevertheless it was significant in many other ways ……. It was significant because Queen Victoria, to the surprise of many at the time, accepted an invitation to come here to this newly established Dominican Priory, which at the time was only just over two years old.
The building of this priory was the result of the conversion to the Catholic Faith and the dedication of one person.
Yesterday we celebrated the Feast of the Conversion of St. Paul on the Road to Damascus.
Today at this celebration, we remember another conversion, – that of Elizabeth, Countess of Clare.
St. Paul was on the road to Damascus. The Countess of Clare was on the road to Rome when she was converted. For the aristocracy and gentry, it became fashionable in early Victorian days to go on the "Grand Tour". The coming of the railways to the main cities of Europe made this expedition much easier. The Countess arrived in Rome in 1841 and was received into the Catholic Church in St. Peter's Basilica.
When she returned to the Island, she built St. Mary's Church in Ryde High Street and twenty years later she built this priory here at Carisbrooke. She had a strong affiliation with the Dominican Order and she was determined to make the Dominicans the first monastic establishment here since the Reformation.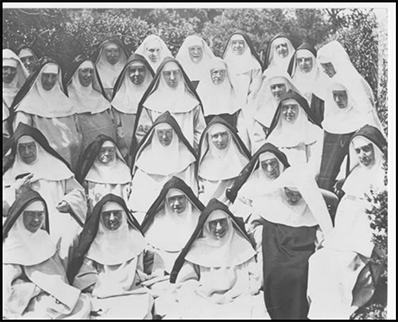 Why did Queen Victoria come here? Undoubtedly, it was the influence of Catholic European royalty who came to visit her at Osborne House. There was also a Catholic MP for the Island at the time (Sir John Simeon) who would have encouraged the Queen in this matter; there would have been a certain curiosity factor, and she would have been advised that eight years after the death of Prince Albert, this would be good PR for the Crown.
The IoW Observer carried a brief report on the visit. She arrived with her entourage and was duly welcomed by the Countess of Clare, Island Catholic clergy and the Mother Prioress. She visited some of the rooms and spoke to the nuns about their work, garden, refectory tea and cakes etc We can speculate on whether she came here into this chapel to pray with the nuns. I have a feeling that she did not.
Nevertheless, there were immediate positive results. There were improved relations with other Christian churches; better co-operation with Catholic clergy visiting hospitals and the prisons. Cemetery authorities became more amenable to Catholic burial sections. Outdoor processions had previously been denied for Catholics. Now, just a few months after Queen Victoria's visit, the Ryde Town Commissioners gave permission (with certain restrictions) for both a Marian and a Corpus Christi outdoor procession.
An attitude evolved:- "Well, if the Queen can visit and receive respectful hospitality at this Catholic priory, then we can accept them living next door or in our road or street"
The history of relations between the Catholic and Anglican churches in the Post Reformation era shows that progress has been very slow indeed. Trust, understanding, respect for different beliefs and appreciation of different forms of worship have grown slowly. We cannot pretend that differences do not exist. Ecumenism is not helped or hastened by ignoring them or simply brushing them under the carpet. Yet we must remember that there is more that unites us than divides us and we should celebrate this fact.
It is providential that this is the conclusion of this Octave of Prayer for Christian Unity. This royal visit was not the fore runner of this Octave of Prayer for Christian Unity. It did not commence until 50 years later, but it was small but very significant step that led gradually to improved relations with the crown (monarchy) and with other churches.
When the history of Ecumenical relations in this country is written by historians at some future date, people will recognise the significant events in the ecumenical journey – Archbishop Ramsey, Rome, 1966 and Pope John-Paul II, Canterbury, 1982. Both these historic visits will be highlighted for obvious reasons. But I hope also that Queen Victoria – Carisbrooke and 1869 will register alongside them and its significance both understood and appreciated.
After 123 years the end came for the nuns here at Carisbrooke. The storm of Autumn 1987 brought havoc and much damage to the priory. The nuns realised that their days here were numbered. The end or closure of anything can often suggest failure. This is not so. Life changes. Attitudes change. Doors close and others open. The nuns are gone but they were pleased that the priory was to remain in religious hands. Christianity still continues here. There is now a different form of worship and day to day routine, but essentially, the Christian message is still proclaimed and promoted here within these priory walls.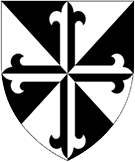 When Queen Victoria was here, she would have seen this Dominican Coat of Arms. (Picture – above). It's on the wall of the Cloister just outside this chapel. She would have been informed of its significance. With it are the Latin words:
Laudare, Benedicere, Praedicare –
To praise, to bless and to preach
Each day as the nuns left this chapel after Mass and the daily schedule of prayers, they would see this in front of them and be reminded why they are here.
We are reminded of Christian continuity here when we see that Dominican coat of arms
That was the focus of the Dominican nuns' ministry here at Carisbrooke.
That focus still continues here today.