History of Devotion to the Sacred Heart
June is the Month of the Sacred Heart of Jesus. It was on 15th June, 1675, that Our Lord appeared to the French Visitation nun, St. Margaret Mary Alocoque. Our Lord said to her:
"Behold this Heart, which loves men so much. Yet in return I receive ingratitude, irreverence, sacrilege and a coldness and contempt which they exhibit for me in this Sacrament of love."
It was through St. Margaret Mary that Christ instituted the "Holy Hour" of devotion and prayer to the Sacred Heart in reparation for the three apostles who fell asleep in the Garden of Gethsemane. Our Lord told her to, "encourage people to make reparation for the ingratitude of men. Spend an hour in prayer to appease divine justice, to implore mercy for sinners, to honour Me, to console Me for my bitter sufferings when abandoned by my apostles when they could not watch and pray for one hour with me".
It was Pope Pius IX who added the feast of the Sacred Heart to the Roman Calendar in 1856 in order to "stimulate the faithful to honour with greater devotion and zeal the love of Jesus Christ under the symbol of the Sacred Heart".
Consequently, the practice of honouring the Sacred Heart with pictures, shrines and statues in homes was encouraged by the Church. From Victorian times priests would visit family homes to solemnly enthrone a representation of the Sacred Heart and urge each family to pray together and seek mercy and forgiveness for sins, as Christ himself requested in his appearance to St. Margaret Mary.
In the 1930s Pope Pius XI affirmed devotion to the Sacred Heart to be, "the epitome of religion and the norm of the more perfect life which more readily leads souls to acknowledge Christ the Lord, and which more effectively, inclines hearts to love Him more ardently and imitate Him more closely."
In the 1950s Pope Pius XII describes the Sacred Heart of Jesus as, "the divine remedy which will save men from the devil and all forces of evil."
Here on the Isle of Wight, the Catholic Church at Shanklin (built in 1957) is dedicated to the Sacred Heart of Jesus. Also, the monastery at St. Cecilia's Abbey bears this dedication. Although the abbey church is dedicated to St. Cecilia, the internal part of the monastery (exclusive to the nuns only) is under the patronage of the Sacred Heart, as it was when they first came to the Island (to Ventnor) in 1882.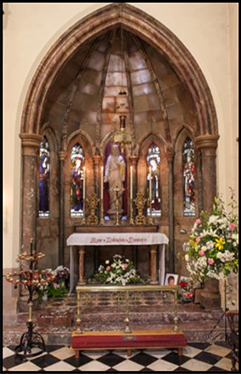 Most Catholic churches have statues of the Sacred Heart of Jesus. At St. Mary's in Ryde there is a fine Sacred Heart Chapel, designed by Canon A. J. Scholes and built in 1898) with marble and alabaster, containing some fine stained glass windows of St. Margaret Mary, St. John the Evangelist, St. Mary Magdalene and St. Augustine. See picture – above).
In 2017 Fr. Anthony Glaysher told the congregation at Ryde: –
"I know that you will all be familiar with the term, – In Corde Jesu, – (In the Heart of Jesus); which our bishop had adopted as his mission statement for the Diocese. I recommend to you also, that you keep Jesus' Sacred Heart to the forefront of your hearts and minds, particularly during this special month of June, which the Church has traditionally dedicated to the Most Sacred Heart of Jesus, I urge you to pray to the Sacred Heart both individually and in your families and parish groups and societies. You could light a candle at the Sacred Heart altar and make your own private devotions. I earnestly hope and pray that as a result, both you and your families will receive many blessings from Our Blessed Lord."
Prayers in honour of the Most Sacred Heart of Jesus
Most Sacred Heart of Jesus, fountain of every blessing, I love You. With a lively sorrow for my sins I offer You this poor heart of mine. Make me humble, patient, and pure, and perfectly obedient to Your Will.
Good Jesus, grant that I may live in You and for You. Protect me in the midst of danger and comfort me in my afflictions. Bestow on me health of body, assistance in temporal needs, Your blessing on all that I do, and the grace of a holy death. Amen.
---
O God, Who in the Sacred Heart of Thy Son, wounded by our sins, dost deign mercifully to bestow upon us the infinite treasures of Thy love, grant, we beseech Thee, that we who now pay Him the devout homage of our piety, may also perform the duty of worthy satisfaction. Through the same Jesus Christ, Our Lord, Who livest and reignest with Thee in the unity of the Holy Spirit, God, world without end. Amen.
---
O Heart of goodness, I put all my confidence in You, for I fear everything from my own wickedness and frailty, but I hope for all things from Your goodness and bounty.
Remove from me all that can displease You or resist Your holy will; let your pure love imprint Your image so deeply upon my heart, that I shall never be able to forget You or to be separated from You.
May I obtain from all Your loving kindness the grace of having my name written in Your Heart, for in You I desire to place all my happiness and glory, living and dying in bondage to You. Amen.
Most Sacred Heart of Jesus – Have Mercy on us