Day of Recollection at St. Mary's, Ryde (2018)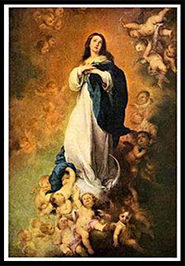 On Tuesday, 27th November Fr. Seth Phipps FSSP came to Ryde from reading for a Day of Recollection with the theme:-
"The glories of Mary, and our interior life".
This was a very successful and spiritually rewarding event. Father gave three talks on:-
"Divine Motherhood and Immaculate Conception";
"Assumption of Our Lady"; &
"Our Lady at the foot of the Cross".
It was a joy to welcome Fr. Seth Phipps FSSP to the Island for this Day of Recollection. Father was ordained at St. Mary's Priory in Warrington in June. (This was the venue for a pilgrimage from the Island two months earlier). Father is now based at Reading with Fr. Matthew Goddard FSSP. This was his first visit to the Island since childhood and his first Day of Recollection.
It was a wonderful to have a young, enthusiastic and dedicated priest with us, to inspire us and to encourage us in our Faith.
On Monday evening Father met with members of the Confraternity of St. Peter. He updated them on the apostolate of the society and his work in Reading. Afterwards the rosary and the Confraternity prayer was recited.
The heavens opened the following day! God sent us rain, – all day! Despite this and also being a Winter weekday, there were reasonable numbers for the Day of Recollection, which varied from 16 to 30, with 32 attending the Mass.
In the first of his talks Fr. Phipps considered that the most important title for Our Blessed Lady was that of "Mother of God; – Mother of the Word Incarnate".
She is the perfect example for a Christian. It follows therefore that she is instrumental in our salvation.
Almighty God chose Mary among all women to be the Mother of His Son, Jesus. We remember this when we say, "Blessed are Thou among women and blessed is the fruit of Thy womb, Jesus". It follows therefore that she should be free from the stain of original sin. Almighty God wanted a perfect creature for the Mother of His Son. This is the theme of the Feast of the Immaculate Conception that we celebrate in two weeks time.
The Assumption of Our Lady is celebrated on 15th August. This dogma was defined by Pope Pius XII in 1950. Mary's assumption into Heaven, body and souls, marks the first fruits of Christ's victory over death. Mary's body would not experience corruption, as ours will.
Father reminded us of the words in the Book of Revelation (12: 1-6) "A great sign appeared in heaven: a woman clothed with the sun, with the moon under her feet, and on her head a crown of twelve stars". This event can be seen vividly in the stained glass window near the Lady Chapel in St. Mary's where this image is depicted.
The third talk on "Our Lady at the foot of the Cross" reminds us of the sorrows that Mary endured during her life, as well as the joys. Hence, we remind ourselves that the titles of the Sorrowful and Immaculate Mother of God are intrinsically linked.
Father reminded us that Our Blessed Lady remained at the foot of the Cross (with St. John) whilst the other apostles fled.
Mary will help us through the difficult times of our life. She will help us to become more united to her beloved Son. She will always come to our aid. She intercedes for us and presents our prayers to her Beloved Son. She will come to our aid when we make reparation for our sins.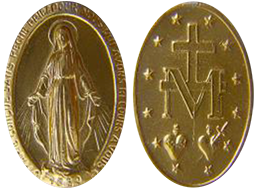 It was most providential that this day (27th November) marked the Feast of Our Lady of the Miraculous medal. This was given to St. Catherine Laboure in Paris in 1830. (see picture above). It promoted devotion to the Sorrowful and Immaculate Heart of Mary. St. Catherine Laboure (picture below) had several apparitions by Our Lady in her Paris convent. She died in 1876, and was canonized in 1947 by Pope Pius XII.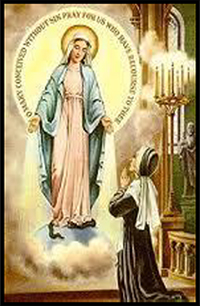 We are reminded that this event led directly to the official dedication of St. Mary's here in Ryde, – the first church in England to be dedicated to the Sorrowful and Immaculate Heart of Mary.
As well as the three talks there was a Holy Hour with Exposition of the Blessed Sacrament, rosary and Litany of Our Lady. During this time, Father heard Confessions.
A shared, convivial lunch enabled people to meet Father informally. We were also pleased to be joined at this time by Fr. Keith Windsor (Prison Chaplain), who knew Fr. Phipps. Fr. Keith stayed for the afternoon part of the Day. Ed Matyjaszek also came to the lunch and spoke about the booklet that he has written:- "The Rosary – England's Prayer". After Mass in the afternoon Father blessed and distributed miraculous medals. He also imparted an individual blessing on each person present, whilst permitting them to kiss his newly anointed hands. (Picture below – left)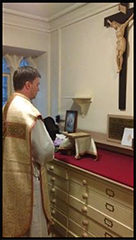 (Picture above right) – Fr. Seth Phipps in a moment of silent prayer and meditation in the sacristy as he prepares for his first Mass in St. Mary's Church, Ryde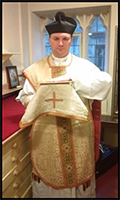 (Picture above) – Father about to leave the sacristy for Mass.
Father thanks everyone for their kindness and for the warm welcome that he received. He looks forward to returning to us in the new year for a longer visit and to see our beautiful Island and visit our two Benedictine abbeys.